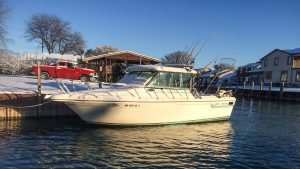 Captain Steve VanAssche has fished on Lake St. Clair for over 30 years. This is why he will guarantee fish.
Captain Steve wants your day on the water to be a memorable one. Whether it's Muskies on Lake St. Clair or Walleyes on The Detroit River, he produces fish every time (OK, not every time, there was a skunking on Muskie years ago on 9/14/03). With that kind of success, he can afford a guarantee.
Captain Steve is a USCG licensed Master #820579 with towing endorsement. For your complete safety the Captain carries a current CPR and First-Aid certification and has his vessels DNR inspected yearly.
Captain Steve has been featured in 18 different articles by such media as The Detroit news & Free Press® and Wood-N-Waters® magazine. The Captain has also been featured on television programs like Michigan Out Of Doors® in 2004 and North American Fish & Game® in 2001. Captain Steve was also voted #1 Muskie guide on Lake St. Clair by Renowned outdoor writer Dave Richey.